LAP4LIFE EVENT AT CHADWICK LAKE PARK
Release Date: June 19, 2017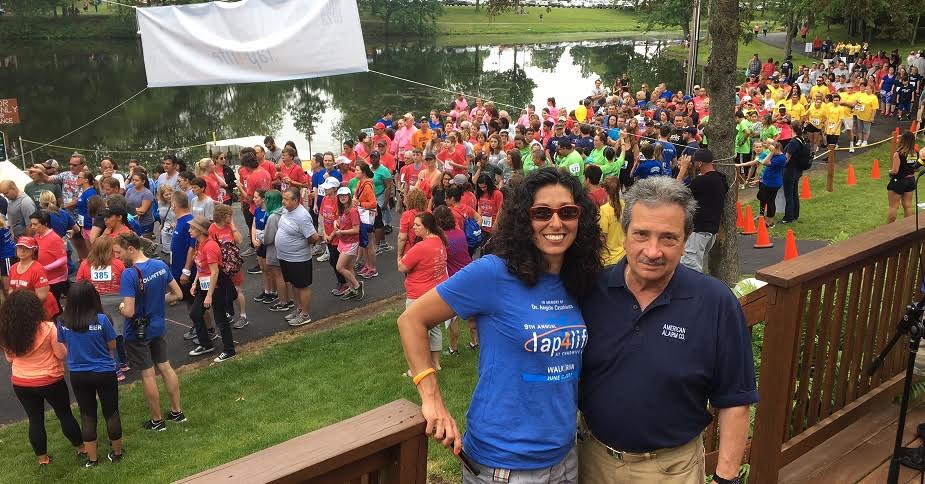 Pictured above are Lap4Life Race Director, Maddalena Casabianca-Reade and Town of Newburgh Supervisor Gil Piaquadio at the Lap4Life Event.
On June 17, 2017, the 9th Annual Lap4Life Walk/Run Event was held at the Chadwick Lake Park to increase awareness about desmoid tumors and raise funds for desmoid tumor research and organ donation. The Lap4Life Event was created in memory of Dr. Angelo Casabianca who succumbed to the impacts of desmoid tumors at age 39 years old. Hosted by the Casabianca Reade Family, this community event consists of a 4-mile walk/run and a ¼-mile Kids Fun-Run around the picturesque Chadwick Lake Park.
Desmoid Tumors are rare growths that affect multiple areas in the body. Research on this health condition is scarce and complications from this disease can be fatal. Some treatment options for desmoid tumors include radiation, chemotherapy, and surgical removal; however, considerable research is needed to successfully eradicate this disease and save numerous lives.
The Lap4Life Event provides informational support to individuals with and impacted by desmoid tumors and fosters dialogue among community members regarding desmoid tumor research. All funds raised at this event benefit the Desmoid Tumor Research Foundation and LiveOn NY to assist with finding a cure for desmoid tumors and improve the health outcomes for organ donor recipients.
# # #