SUPERVISOR DELIVERS MESSAGE TO GOVERNOR
Release Date: March 02, 2017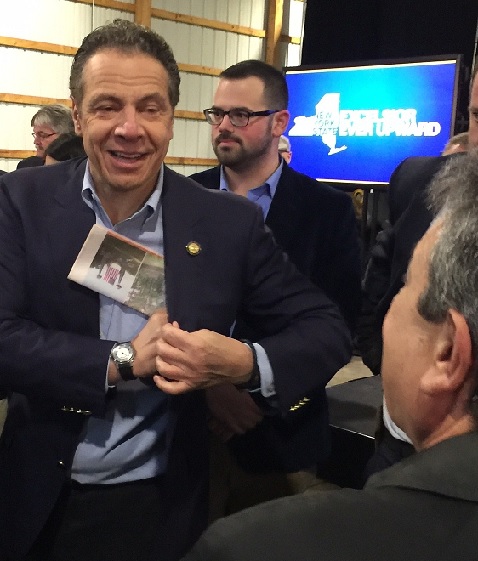 On Sunday February 26th Supervisor Gil piaquadio, Councilmen
Paul Ruggiero James Presutti and Scott Manley attended a press
conference at the Thruway Authority garage at Exit 16-Harriman.

At the end of the press conference Supervisor Gil Piaquadio was
able to hand the governor a copy of his alternate school tax proposal
( photo above shows the Governor Cuomo sliding the outlined concept
into his jacket pocket ) this proposal is a shift in taxes using a
sales tax to greatly reduce the school tax burden on the property
owner. The governor thanked him and promised to read it.
This could greatly reduce your school taxes if the governor chooses
to implement it as has been done in 39 states.
The Governor along with congressman Sean Patrick Maloney
and County Executive Steve Neuhaus were there to announce that
the Thruway interchange onto Rt 17 and Rt 32 area of
Harriman/Woodbury that was suppose to be finally updated and
improved in 2024 had been fast tracked and will break ground in
November of this year.